Home Energy monitor
BC Hydro is offering a discount on a energy tracking devise put out by Rainforest Energy Gateway. I am considering replacing my electric clothes dryer with gas & want to see if it would be worth while so will take advantage of the rebate Here is the article
OME ENERGY MONITOR PROGRAM
Get real-time feedback on your electricity use, and save $35 on a new Home Energy Monitor
Home energy monitors give you real-time information about your household's electricity use – in kilowatts, and dollars and cents.
Many BC Hydro customers are already tracking their hourly electricity use with MyHydro. Now, with new Home Energy Monitors, you can track the electricity you and your family are using in real time. This means when you turn on your clothes dryer, dishwasher, or other electric appliances or devices, your Home Energy Monitor will show you the real time consumption – and cost. Seeing how much electricity you're using – as you're using it – will help you to better manage your power consumption, and save energy and money.
BC Hydro customers can choose from two Rainforest Automation monitors: the EMU-2™ and the EAGLE™ – and for a limited time, BC Hydro customers will get $35 off the regular price*. See below for details on how to order the monitor that works for you.
*Offer ends March 31, 2015
3 easy steps
Request a Home Energy Monitor (below). This allows us to confirm that the electricity meter at your home will work with a Home Energy Monitor. BC Hydro will configure the meter at your location to communicate with a specific energy monitor based on your selection.
Purchase your Home Energy Monitor from Rainforest Automation. BC Hydro will send you an email with a link to purchase your Home Energy Monitor directly from the Rainforest Automation website. BC Hydro will also send you an email if we aren't able to confirm an energy monitor will work at your location.
Start monitoring your electricity use in real-time. When you receive your Home Energy Monitor in the mail, follow the included set-up instructions to have it automatically connect to the electricity meter at your home and you're done!
Who can use a Home Energy Monitor
Residential customers who live in single-family, detached or semi-detached homes are able to take advantage of Home Energy Monitoring.
Select the energy monitor that's best for you
Two models of Home Energy Monitor are currently available to customers. Both monitors are manufactured and sold by Rainforest Automation, a B.C.-based company.
Choose the model that works best for your needs: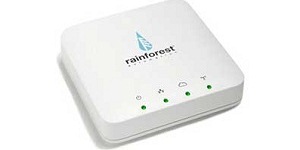 Rainforest EAGLE™ energy gateway
A secure and powerful energy monitor, the EAGLE™ gives you easy access to energy usage information including the dollar cost and kilowatts of the electricity use in your home. The EAGLE™ displays this information on your computer, smart phone, tablet, or other mobile device. You can even send your data through the Internet to a third-party cloud service provider, some of which can suggest energy-saving solutions that are unique to you.
Regular price: $99.99
Now: $64.99 after BC Hydro instant rebate.
Plus applicable taxes and $5-$9 shipping charge, based on location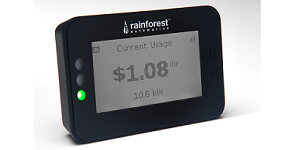 Rainforest EMU-2™ energy monitoring unit
The EMU-2™ continuously monitors your electricity usage and displays this information, in both dollar cost and kilowatts, on an LCD screen. Information displayed includes the total electricity use for the billing period and the real-time electricity use.
Regular price: $69.99
Now: $34.99 after BC Hydro instant rebate.
Plus applicable taxes and $5-$9 shipping charge, based on location